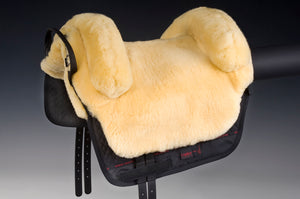 The spanish style bareback pad! The top-seat is is manufactured completely from lambskin with a height of 30mm thick sheepskin for the comfort of horse and rider. Front and pommel rolls create a solid seat, Western style with the comfort of sheepskin.  The top unzips for easy cleaning. Available in Full Size or Pony.
measures 23.6" along spine, with 19"  drop from center seam
Please note that a 4" longer girth is needed due to the design.
**** This is a non-returnable, non-refundable item, as per manufacturer guidelines ****